The New Net Zero Leading-Edge Design and Construction of Homes and Buildings for a Renewable Energy Future - See more at: http://www.chelseagreen.com/bookstore/item/the_new_net_zero:hardcover#sthash.XU2d0nim.dpuf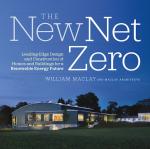 The new threshold for green building is not just low energy, it's net-zero energy. In
The New Net Zero,
sustainable architect Bill Maclay charts the path for designers and builders interested in exploring green design's new frontier.
Designers and builders will find a wealth of state-of-the-art information on such considerations as:
air, water, and vapor barriers;

embodied energy;

residential and commercial net- zero standards;

monitoring and commissioning;

insulation options;

costs;

and more.

The comprehensive overview is accompanied by several case studies, which include institutional buildings, commercial projects, and residences. Both new-building and renovation projects are covered in detail.
The New Net Zero Leading-Edge Design and Construction of Homes and Buildings for a Renewable Energy Future - See more at: http://www.chelseagreen.com/bookstore/item/the_new_net_zero:hardcover#sthash.XU2d0nim.dpuf