The Small-Scale Dairy
includes everything you need to know in order to successfully produce nourishing, healthy, farm-fresh milk. Whether for home use, direct sale to the consumer, or sale to an artisanal cheesemaker, high- quality raw milk is a delicate, desirable product.
Applicable to keepers of cows, goats, or sheep,
The Small-Scale Dairy
offers a holistic approach that explores the relationships between careful, conscientious management and the production of safe, healthy, and delicious milk.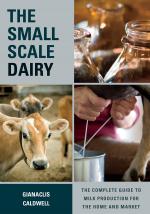 Included are options for designing a well-functioning small dairy, choosing equipment, and understanding myriad processes—such as the use of low-temperature pasteurization where raw milk sales are prohibited. Whether you have a one-cow home dairy, a fifty-goat operation, or are simply a curious consumer,
The Small-Scale Dairy
is an accessible and invaluable resource for achieving your goals.
The Small-Scale Dairy The Complete Guide to Milk Production for the Home and Market - See more at: http://www.chelseagreen.com/bookstore/item/the_smallscale_dairy:paperback#sthash.5qZ4gfxu.dpuf