Chelsea Green Books, $19.95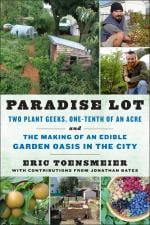 When the authors began, their tenth-of-an-acre lot was barren ground, peppered with concrete, asphalt, and brick. They designed a "permaculture paradise" with more than two hundred low-maintenance edible plants in an innovative food forest on a small city lot. The book explains the principles and practices of permaculture, the choice of exotic and unusual food plants, the techniques of design and cultivation, and, of course, the adventures and mistakes in the process. Packed full of detailed, useful information about designing a highly productive permaculture garden,
Paradise Lot
is also a funny and charming story of how two single guys realised the garden of their dreams and met women to share it with.